How We Work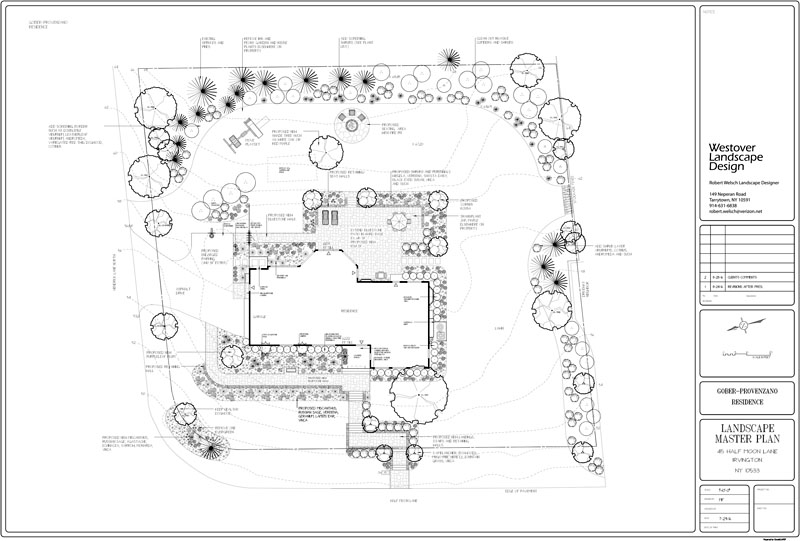 Westover Landscape Design recognizes that each landscaping project is unique, from your particular needs and wants, to the special conditions of your property and budget.
INITIAL MEETING. We meet with you on your property, to walk around with you and talk about what you love (and don't love!) about your existing landscape. We'll raise any issues and ideas that we see and have an initial discussion about budget, scheduling and the scope of the project. You should provide us with a copy of your survey at this meeting.
FOLLOW-UP ESTIMATE. We use the information we've gathered to develop an estimate for the next stage of the process, which can be either
A Landscape Master Plan or planting plan
An itemized estimate for work to be done
PRESENTATION and REVIEW. We meet with you again to show you our ideas, discuss our design concept, and review the estimate with you. We can show you pictures of the plants and design elements we've chosen, explain how they will all fit together, and walk the property again with you to put our design in context.
REVISION and MODIFICATION. If needed, we will create a revised estimate for you based on your feedback on our proposal or the Landscape Master Plan.
NOW THE BALL IS IN YOUR COURT. Once we received a signed agreement and your deposit, we'll schedule the project on our calendar. In general, the work is done on a first come, first served basis. We pride ourselves on continuous installation once we get started, as long as the weather cooperates.
DURING INSTALLATION we'll touch base with you on a regular basis. One of us will be on-site to set plants, monitor progress, and handle any issues that might arise. We'll ensure that issues are raised with you in a clear and timely fashion. If we need your input, we'll make sure to get it before we proceed.
WHEN THE JOB IS COMPLETED we'll give you a guided tour of your new landscape and answer any of the questions you might have. The final Invoice will be issued to you at this point, along with instructions for long term care.
BUT THAT'S NOT THE END! Your custom landscape design doesn't stop with a drawing on paper. We help you bring it to life and watch it grow. We're happy to schedule spring and fall clean-ups for your new garden, plant spring flowering bulbs for you or start planning new projects. We're happy to answer any questions and address any concerns. Please feel free to contact us.



< Who We Are | Testimonials >